Seances

Yours, not to be seen again
From the mind of
Guy Maddin
, Seances is an indefatigable machine that dynamically assembles films into one-of-a-kind configurations. Your film exists only in the moment; engage it before it disappears.
Role
Interface design of the website opening and closing (visual concept, screen flow, UI, layout, typography, 3D and interaction motion samples) // Interface design of the installation touchscreen
Collaborators
Films by
Guy Maddin
,
Evan Johnson
,
Galen Johnson
// Website and installation production (NFB) by Alicia Smith, Dana Dansereau, Laura Mitchell // Development by
Nickel Media
// Sound by Galen Johnson, Guy Maddin, Evan Johnson and John Gurdebeke // Interface dynamic text editing by Jennifer Moss
The ghosts of lost films

The premise
Maddin is famous for his infatuation with the tropes, technical oddities and aesthetics of the silent film era, and with Seances he pays homage to those period films that have long been lost.
Robert Everett-Green,
Globe & Mail
And with only those — film titles and a few synopses — as inspiration, Maddin and co-creators Evan and Galen Johnson shot a series of short films, designed and scripted to be cut up and recombined to form countless unique narratives.
At the same time,
Nickel Media
performed some data-magic and built an engine that could assemble a unique never-before-seen film for each viewer, with no rewinding, pausing or sharing permitted. Upon arriving at the website and engaging the machine, the viewer is an active player in the creation of a new film, but, like all lost films, it will never be seen again.
Delirious dreamscapes

Get a taste of the films
The Seances movies are a zany, fervent blend of old and new, full of nostalgia, digital glitches and dirty runaway soundscapes. Take a look:
Video — Seances film trailer
Stills from Seances films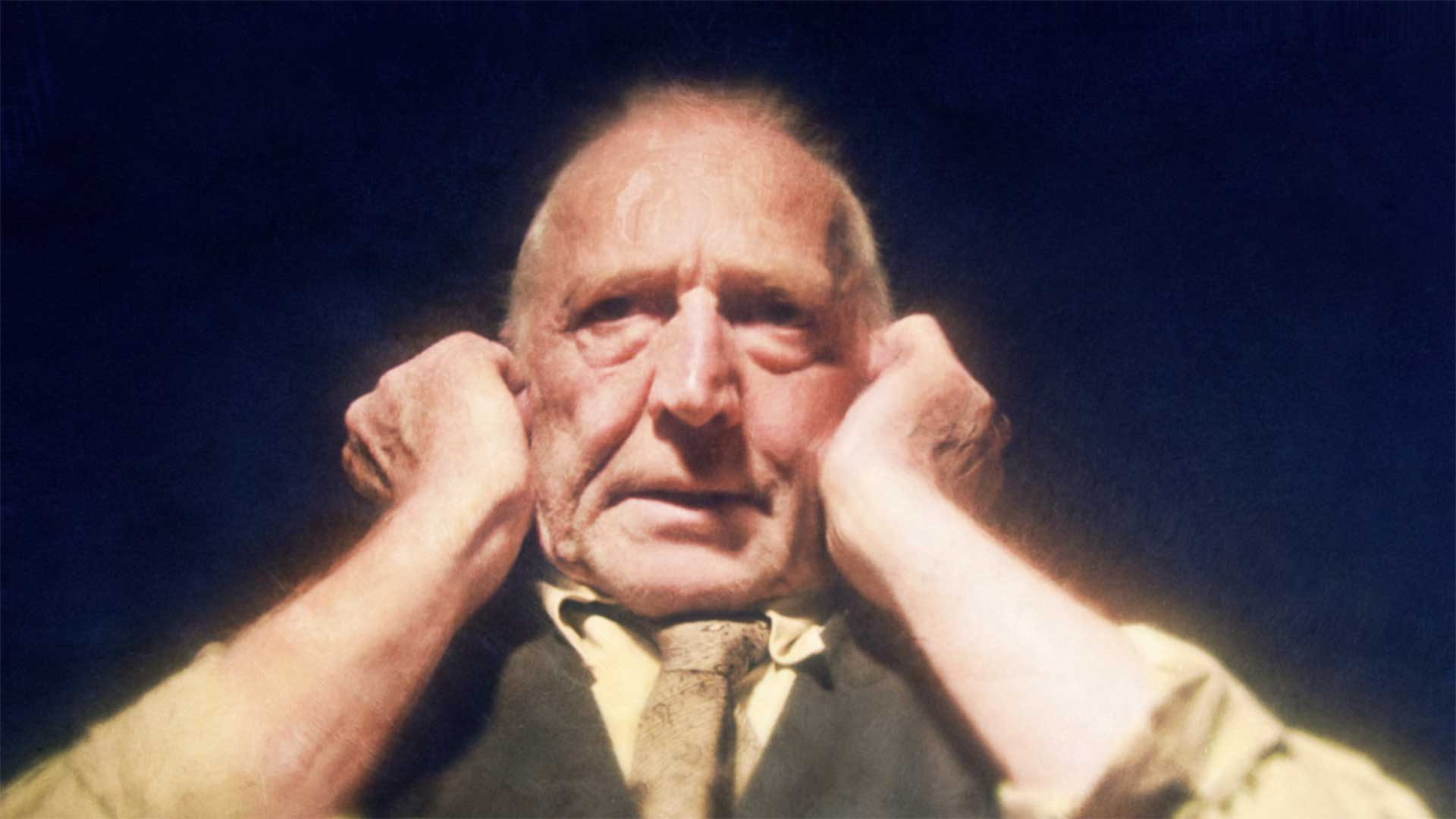 Getting in + getting out

My role
I was invited to join the project with the film engine roughly 60% complete, and was asked to come up with a concept and design for the website's pre- and post-film experience.
In other words,
how to introduce the viewer to the project and their movie, and how mysterious to be at that time.
once the film had finished, what would be an appropriate and poignant denouement?
what themes and messages to embed in those moments?
how much user interaction to build in, versus just asking them to watch?
should we match the visual style of the films, or stand apart from it?
Indefatigable

Results
After one year online, Seances had attracted over 27,000 users, the film engine had assembled over 1.5 million unique videos, and the project had garnered much attention as a
ground-breaking collision
of
tech and creativity
.
A tireless text machine

Final designs (website pre-film)

A morphing, flailing and failing title generator was a simple but effective way to communicate the zaniness and humour of the films, and the infinite, ever-changing, catch-it-while-you-can notions behind the project. The 3D text harkens to a theatre marquee — albeit a fluid one — with the titles looming above as you stand on the street.




Final static design comps, website launchscreen






In an effort to ease into the unique visuals of the movies themselves, we placed random video loops from the film footage behind the title generator. Lastly, we designed a touch-and-hold CTA that requires the viewer to "conjure" their film before it can present itself.




Video — screencast of the Seances website launchscreen








An endless graveyard

Final designs (website post-film)

We called the post-film experience the Graveyard. Viewers could build a synopsis for their recently-completed movie, initiate a tweet of their viewing experience, and witness their one-of-a-kind film added to the endless catalogue of other "lost" films. Finally, they were left to browse the graveyard and get a sense of the number of people who had also been haunted by their own personal Seance.

(Note: in the end, the Graveyard's scope + development was greatly simplified to save time

)




Video — design comp / motion sample of the Seances Graveyard




Stills from the Graveyard motion design


Hauntings for everyone

Mobile designs
Seances films are viewable on mobile devices too, though the opening and closing experiences were greatly simplified.
About + credits screens

Ouija board slash crystal ball

Festival installation
The Seances experience also toured as an installation, debuting at the
Tribeca Film Festival
, where the audience had even more control of the film they were attempting to summon. DJ Pangburn of
Creators (VICE)
explains how, upon entering the room, viewers were presented with:
a flat-panel monitor arranged like a table top, where they can choose clips and still images and move them into the center where there is a title generator. These selected images then collectively generate a title for the film the viewer is about to see.
Slideshow — design stills for the Seances installation touchscreen
Video — installation touchscreen in use at TIFF
The installation at Tribeca and TIFF
Blisters before your eyes

Design exploration + challenges
The exploration and concept phases for Seances were extensive, as we worked to hit the right notes for such an atypical experience, especially in the pre-film screens. The introduction and conclusion needed to communicate some or all of these messages:
you are interacting with the ghosts of lost films
every experience with them will be different + fleeting
juxtaposition povides infinite narrative permutations
films within films, dreams within a dreams
the users presence plays a role
loss: to be watched only once, now, with no replay
On top of that, the film aesthetic was so unique and fx-laden it presented a challenge:
Robert Everett-Green,
Globe & Mail
Trying to match that look was bound to be an awkward fit, and limit the impact and surprise of the films themselves. It made sense to harmonize with the mood and mystery of the films, but visually be a juxtaposition.
A Seances moodboard
A modern-day yesteryear

Art direction
A moodboard from the design exploration presents many of the following inspirations and solutions:
keep visuals minimal, stark, with a very limited colour palette. The film should remain the rich, meaty centre of the experience.

use text as the key visual. This nods towards the precursor of all films, scripts, as well as early computer interfaces and the machine-like quality of Seances' engine.

experiment with vintage book typefaces, to give a literary-slash-machine blended feel.

be playful with words and animation, to tie into the humour of the Seances films.

try using 3D space, to explore depth and richness in a different manner than the films do.
And... flesh it out

Concept designs
With a visual and animation plan established, I began working my way through various concept designs.
The following video presents several different rounds of concept work.
(In the end the "Regenerating Title" pre-film concept at 01:23 was chosen for further design work, along with the complimentary text-only Graveyard post-film experience.)
Video — animated concept design work
Stills from the concept designs
Wordmark iterations

Over the course of the concept and design work, I worked on several different wordmark options. In the end, we went with the simple, straight-up, small caps treatment (#1 below).