This Land

Nowhere to hide on the ice
In March 2007 seven Canadian and Inuit Rangers, riding in a convoy of snowmobiles, covered more than 2000km from Resolute to the northernmost tip of Canadian soil, near the North Pole. This website details their adventure in photos, videos and audio.






Video — browser screencast


Role
Design (UI, layout, typography, iconography, photo manipulation), some Flash build (production graphics, layout, animation)

Collaborators
Dianne Whelan (story, photos, videos) // Jeremy Mendes (creator, art direction) // Rob McLaughlin, Adam Neilson (NFB production) // Wes Friend (development)







Browser screenshot stills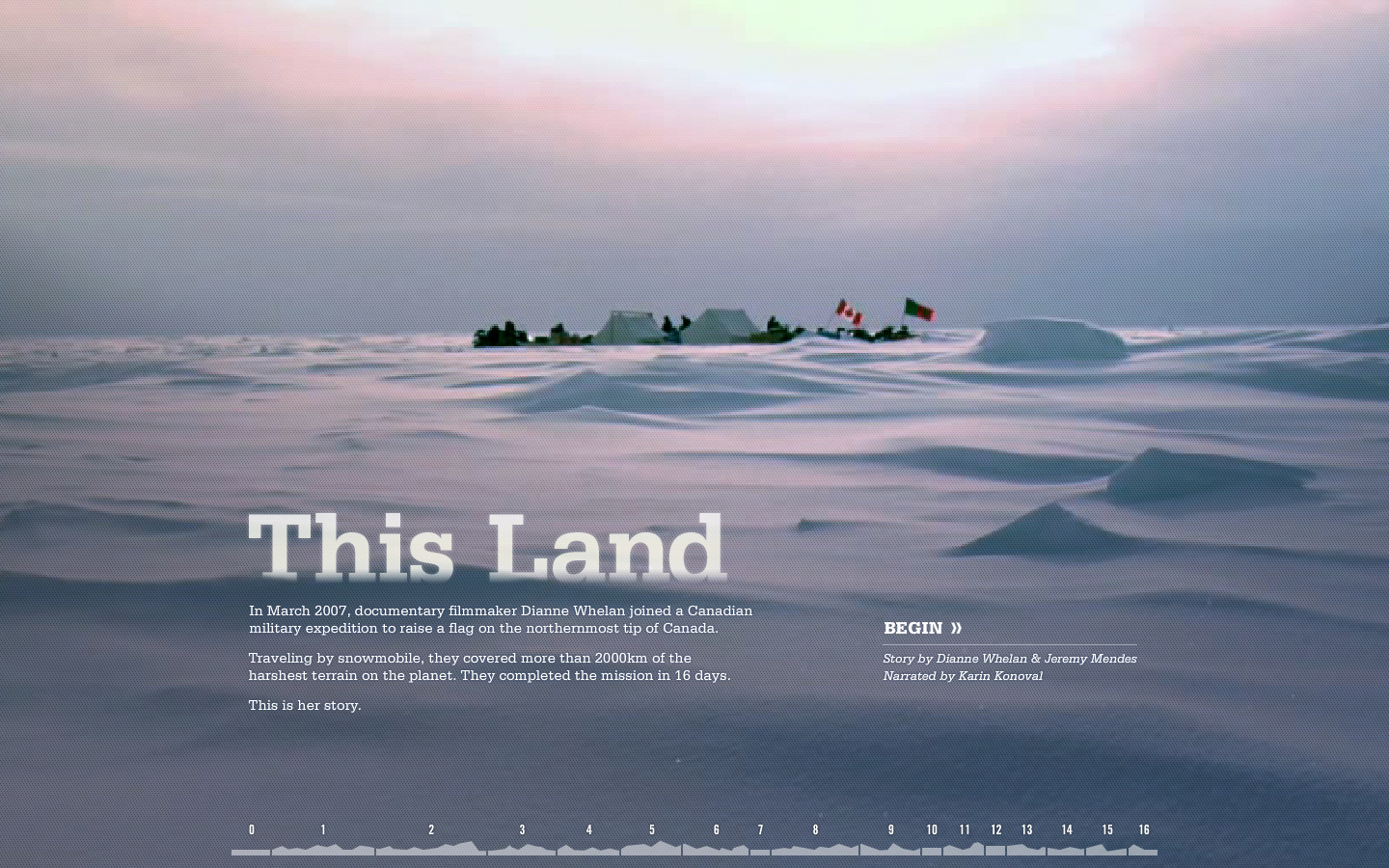 The site is essentially a glorified photo essay, sprinkled with video vignettes from the expedition, an audio narration of the story, and a stirring opening soundtrack from Tanya Tagaq.
I worked closely with our lead developer at Wallop building the engine to pre-load and deliver the content seamlessly. Each chapter has ~ 20 dedicated editorial photos and videos, and then, once those have been used up, the system selects from a pool of 200+ extras to give the sense of endless content. Worth mentioning: this was 2009, so the site is built in Flash.
See it for yourself
.
A blue hazy whiteout

The site navigation
A fun component of the design was a UI element, the navigation, that at its root gave you quick access to the story chapters, audio, and support screens, but also allowed the audience to see essential log data for each travel day: distance, hours of daylight, and temperature.
Video — This Land navigation in action